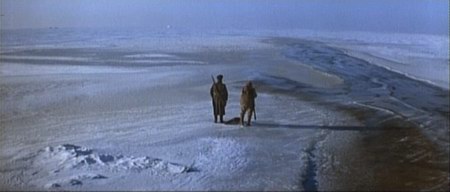 After being saved by Dersu Uzala, a Russian surveyor bonds a deep friendship with the hunter from the Siberian Woods.
Beautiful photography and wonderful colors. This one desperately needs a remastering. A rather simple story, and maybe the final revelation of the Russians biggest fault could hit a little harder. But Dersu's soul is indeed beautiful and the film captures it nicely.
Colorwise I noticed a distribution of colors within the frame of the picture. Blue left, red right and vice versa, eg the shot were they watch the sun and the moon and afterwards the steaming kettle on the fire.