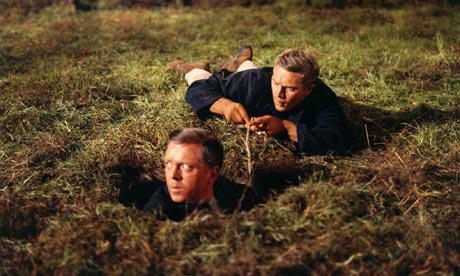 A group of POW air force soldiers try to escape from a German war camp.
As an ensemble piece the film offers quite a lot of opportunities for interesting scenes with many actors. Although many of these were quite exciting, the main attraction of the film was the economy with which each character was sketched. James Garner as the savvy black marketeer, Steve McQueen a stubborn escapee, and Attenborough as the unquestioned mastermind. There were many others, just as fascinating to watch.
The film in itself is entertaining, but didn't bring me to the edge of the seat. The memorable scenes were the escape through the tunnel and the motorcycle chase which was sort of relaxing to watch.
There is a long introduction how the real events were compressed into fewer persons and that some of the narrative twists and turns had been bent to fit the format of the movie better. I don't know the book but the adaptation works surprisingly well, especially compared to most of the other biopics I've seen which never work for me. In terms of stringency I think the script was even better than the Army of Shadows.